About
Age:
28

Hometown:
Houston, TX

Current City:
Houston, TX (shoutout to the 818!)

Years Drumming:
20

Years Professional:
10
Drumming Influences:
Dave Grohl, Taylor Hawkins, Jose Pasillas, Chris Pennie, Dave Weckl, Martin Valihora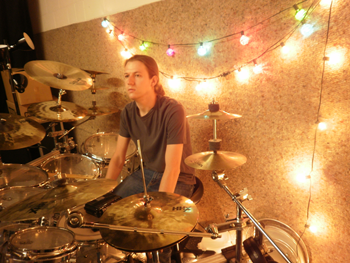 I'm really just a guy who loves drumming with a constant drive to make everything sound the best it can be.
With the gifts of digital audio interfaces and internet connectivity, I've been lucky to receive messages from people all over the world wanting me to play drums on their work, and that means a lot to me.

I'm very grateful to have a job where I can make other people happy from my help alone. Hearing YOUR end product is definitely the most satisfying part of the job!
The 5 steps to drum tracks for your song
STEP 1:
Send me a message via the contact page.
STEP 2:
Send your track(s) to me via e-mail, private FTP, or IM client, so we can discuss your project.
STEP 3:
I record you a free demo with no strings attached.
STEP 4:
I send you my drum track, and you can inform me of any changes until it is perfect for you.
STEP 5:
You get an MP3 of the completed demo kit embedded in your mix.
Background:
An Endless Sporadic - Co-Founder, drummer
Stasera - Live and session drummer
Aurelius - OSD drummer
Neversoft - Lead Drum MIDI Designer on the Guitar Hero Series
Tapulous - MIDI Designer on the Tap Tap Revenge series.
Harmonix - MIDI Designer on the Rock Band Network

Hundreds of OSD tracks over the years:
Infinity Ward, Danny Wrigley, Nathan Mathew David, Chris Yansen, Kyle Johnson, Brian Effinger, Nick Morzov, Dom Liberati, Alex Leffelman...